Version 1.6.0 of Reiterate has been released and is now available.

Reiterate 1.6.0 has the following updates:
fixed

The Tag Board did not resize properly if you had more than one line of tags.

new

Changing tags mid-session immediately updates the play list. (see below)

improved

Cleaned up some alignment issues in the Settings Tab

improved

Changes to the speech recognition to make Acknowledgement better

new

Acknowledgement transcripts. Reiterate will display your speech as you acknowledge clips.

fixed

Muting/unmuting clips background display

fixed

Keyboard autohides when tapping other controls in Clip Details
Mid-session tag updates
The new tag feature enables a way to use Reiterate I find particularly useful. Imagine you have a problem remembering to do one particular thing, but it doesn't come up in every game. For example, say you have trouble remembering to use item actives. You don't buy an item with an active ability in every game, so you don't want Reiterate to bug you about it all the time, but when you do buy an item with an active it would be nice if Reiterate focused on that one issue.
Here is how you can use tags to accomplish this. Record a clip, name it "Item actives", with an audio reminder that says something like, "Remember to use your item active!" Next, create a new tag, call it "item", and assign that tag to your new clip. That clip is the only clip with the "item" tag.
In your Session view, you'll see the item tag in the Tag Board. Tap it twice to disable it (so it displays a red slash through the tag). That way, by default your "Item actives" clip will never play.
Now, while a session is playing, let's imagine you buy an item with an active ability and you want to be reminded about that. Tap the item tag in the Play tab Tag Board to enable it (so it's colored). This will change your play list so that only clips with that tag will play, and since that clip is the only one with that tag, Reiterate will play that one clip over and over. Tap the tag again to resume your normal play list.
New Acknowledgement UI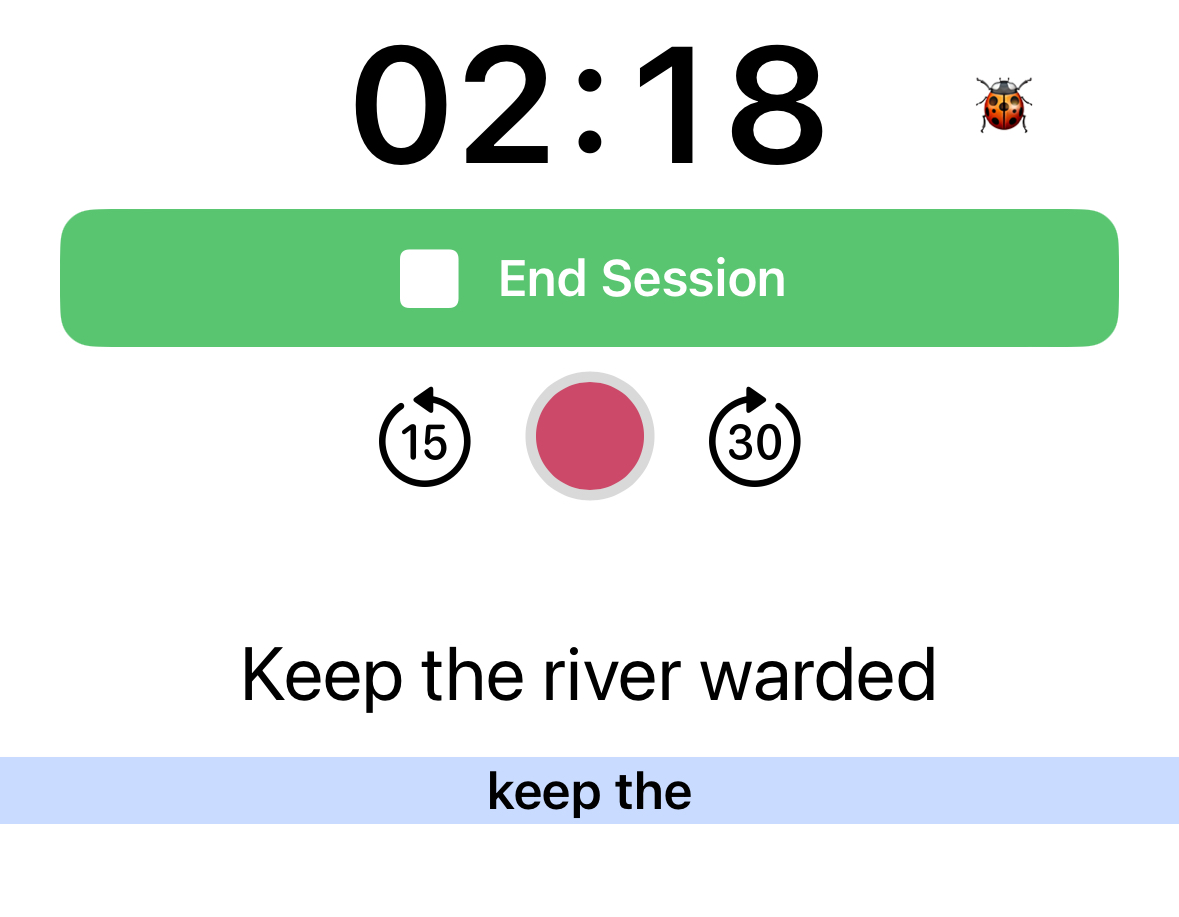 The interface for Acknowledgement has been reworked. Now, when Reiterate is waiting for you to acknowledge a clip, you'll see a pulsing blue bar below the clip title. As you speak words, they will appear in the bar. This way you'll know that Reiterate is listening to you (or why it might not be acknowledging a clip).
Also, under Settings, there is a new Vocabulary section. Here you can add a list of words like "gank" that Reiterate might not recognize because they're too jargony.